Newlywed mourned
| | |
| --- | --- |
| By:Nicole Falco | October 11, 2001 |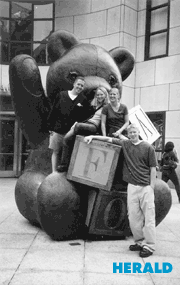 Scott, left, Kathryn, Renee and James during a family vacation last summer.

Family recalls the man who put them first
Danny Bart and his 28-year-old son, Scott, spoke to each other almost every morning. Sept. 11 was no different. At about 8:20 a.m. Danny called Scott at his office on the 96th floor of World Trade Center, Tower 1. The two spoke for about 10 minutes. Five minutes later the two spoke again. Danny hung up with Scott just moments before the first hijacked plane struck the tower. Once Danny heard about the airplane crash, he immediately tried to call Scott again, but could not get through. Scott, 28, has not been heard from since.

Just one month before, Scott had married his longtime girlfriend, Elizabeth. The Aug. 4 wedding at Jericho's Milleridge Cottage was the last time many friends and family saw Scott.
Scott grew up in Malverne, and graduated from North High School in Valley Stream and later attended SUNY Oswego.
Scott and Elizabeth met four years ago. Soon after, Elizabeth, now 24, moved to Belgium to study abroad. Apparently their love was meant to be. Scott visited Elizabeth while she was away and their relationship blossomed from there.
He was very funny. He had a very honest, pure desire to make everyone smile. He was very sweet,Elizabeth said.
Even as Scott's mom, dad and wife anxiously await to hear news about him, they can't help but smile as they recall stories and memories of him.
Scott was very family orientated. The oldest of four, he was very close to his siblings, Kathryn, 26, James, 23 and Renee, 20. While most twenty-somethings give up family vacations, Scott and his siblings vacationed together as recently as summer 2000 when they visited Renee in Boston.
He was always there for his brothers and sisters,said his mom, Nancy.
In fact, even as he was busy planning his wedding with Elizabeth, Scott was also busy worrying about the members of his family who were traveling from far away. After his Aug. 4 wedding, Scott and Elizabeth opened their new home in Malverne to 20 of their wedding guests. They called their home, Hotel Bart.
He wasn't concerned about his happiness because he knew he'd be happy,Nancy said.
Just weeks before their wedding, Scott, Elizabeth and Kathryn played for Danny's summer soccer league. Danny is the former president of the Valley Stream Soccer Club and continues to coach soccer at North High School. Scott played soccer for his father in high school as he had played since he was 5 years old. He usually played goalie or fullback.
Scott was also successful at work. At 28, Scott was already a vice-president of Marsh & Mclennan. More important than that was the fact that he loved his job and was truly motivated to be there, according to Elizabeth.
Although he worked in the technology field, Scott actually earned his bachelor's degree in music.
Scott possessed a deep, operatic singing voice. He sang at Carnegie Hall on four different occasions, performed the National Anthem at his college graduation and appeared in numerous plays throughout high school and college. He was also a member of the State Singers and sang with the Collegiate Chorale.
Scott used his musical talents to write songs for Elizabeth and his mom. All of Scott's talents prompted his wife to give him the nickname, Renaissance Man.
Elizabeth was moved by a visit from Sen. Hillary Clinton. The senator met with her and three students at Southside High School in Rockville Centre, where Elizabeth teaches English, following the attack.
He was very happy, he lived life to the fullest in every way,Elizabeth said.
A memorial service for Scott will take place on Saturday, Nov. 10 at 11:00 a.m. at Our Lady of Lords, Malverne.


©Valley Stream Herald 2001
Reader Opinions

Thank you for writing this article about Scott Bart. Scott was my best friend from high school and just thinking of him makes me smile- it always has. He had that power over people, even in the worst of times, you could feel his true inner, glowing spirit. He was the best man I've ever had the chance to know and I will miss him terribly. His family and his wife will be forever in my thoughts. I moved to DC several years ago. Is there a way to get a paper copy of this edition, rather than printing it from the internet? I'd like to keep it.


Number of Opinions: 1
1 - 1 of 1